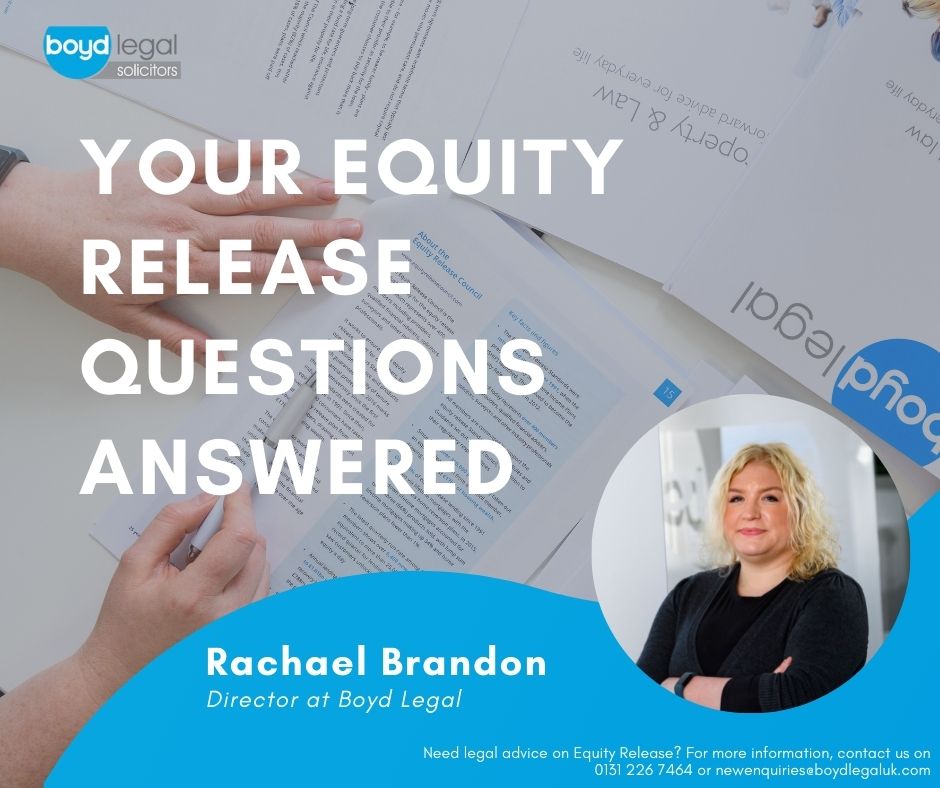 Wondering where to begin with your equity release journey? Choosing to release equity from your property can be a big step for many, so it's natural to want to ask all the necessary questions to feel confident throughout the process.
We sat down with our equity release expert and director at Boyd Legal, Rachael Brandon, who revealed the answers to some frequently asked questions.
What is Equity release?
An equity release is a lifetime mortgage that is available to homeowners over the age of 55. It allows you to release a lump sum from your home whilst retaining ownership of your property.
What is the legal expert's role in the Equity Release process?
We usually come in as one of the last steps in the client's equity release journey. By the time they reach us, the clients have met with an equity release broker and submitted their application to the lender.
The client's property will also be valued thereafter, and our involvement is really to discuss the offer of loan, which would be released in due course. After their financial advisor has referred the client to us, we will contact them and see the transaction through to completion.
It's a legal requirement to receive independent legal advice before releasing equity. Our role is to go through the offer pack with the client and ensure that they are fully aware of what it entails and the obligations that are outlined.
We do at least one face-to-face meeting so we can ascertain that they understand the legal implications of releasing equity from their home, they are happy to proceed and that they are not being pressurised to take out equity from a third party.
Once everything is finalised, we witness the signing of the mortgage documents and return them to the lenders solicitors to allow the money to be released.
What are the biggest myths about Equity Release?
The process of releasing equity has become much more regulated over the years, and the Equity Release Council works hard to make sure people are well informed and put measures in place which must be adhered.
A lot of the myths stemmed from the time before the council was established. One of the biggest misconceptions of equity release is that you will no longer own your house. With the lifetime mortgage, which is the most popular type of equity release plan in Scotland you will always remain the owner of the property. In some cases, clients even use the money to pay off their existing mortgage.
Can lenders demand home improvements from homeowners when they take equity?
It can happen but it's not that common. You often see people taking out equity release to make home improvements.
It's important to remember that the client will be living in the property they are releasing equity from and so want to make sure it is well maintained. If the lender feels that certain works need to be undertaken, it will be flagged up at the valuation stage. The lender can add a special condition in the offer that the money is being released on the basis that the works will be done within a certain time frame, from completion of their equity release.
What happens to the interest on the loan?
A great thing about an equity release is that interest rates are fixed. This means that clients don't need to worry about the interest rate going up.
Is the money you receive from equity release taxable?
The Equity release lump sum is completely tax-free. However, if you gain interest on the lump sum then that could be taxed depending on your affairs.
As such, we always advise clients to seek advice from their financial advisor, Citizen Advice or HMRC in this regard.
We as lawyers, do not provide tax advice.
Can homeowners take equity from their property if they still have a mortgage?
Yes, you can get an equity release if you still have a mortgage on your property. The equity release will be used to pay off a client's current mortgage. Therefore, this can enable the homeowners to free up their monthly outgoings.
Are there any charges to get out of an equity release early?
Clients can repay their loan early, but it is subject to an early repayment charge.
This will be outlined within each equity release offer and our team talk the client through the implications of it.
It can be more costly to repay early, however, if a client wants to end the agreement early, we would recommend that they seek finical advice.
Is Equity Release a good idea?
Some clients do ask us if Equity Release is a 'good thing'. However, every client's situation can be different, so it's important that they think about their situation and how equity release will affect them. Equity release will not suit every client.
We want the client to think about the point they have raised, so try to turn the question around and get them to reflect on themselves and think - What do I want the money for?
A lot of our clients have worked hard all their lives and an equity release can mean they can enjoy their later years, whether that's just for a little more income month to month to pay the bills, taking early retirement or going on the ultimate vacation.
How Boyd Legal can help
There has been significant growth in demand for equity release over recent years. It can be a useful way to release funds you have invested in your property; however, it is important to get legal advice.
At Boyd Legal, we are here to go through the offer documentation and ensure you understand the legal implications. We also act solely for the borrower so if you had any concerns, we are here to talk you through them to ensure a lifetime mortgage is right for you.